HISTORY OF LIMA
Lima (from the Quechua Limaq) is the capital of Peru. It is located on the central coast of the country, on the shores of the Pacific Ocean, flanked by the coastal desert and spread over the valleys of the Chillón, Rímac and Lurín rivers. It was founded on 18 January 1535 under the name "La Ciudad de los Reyes" (The City of Kings) in the agricultural region that until then had been known by the indigenous people as Limaq.
Lima was the capital of the Viceroyalty of Peru and the largest and most important city in South America during the Spanish regime; after Independence, it became the capital of the Republic.
Due to its expansion and populous urban area, today it is called Metropolitan Lima, and has a population of more than 9 million 320 thousand inhabitants, who represent 30% of the Peruvian population. This figure has made it the most populated city in the country, the fifth most populated city in Latin America and the Caribbean and one of the thirty most populated urban agglomerations in the world. Lima is also considered the commercial, financial, cultural and political centre of the country.
Jurisdictionally, the metropolis extends mostly within the province of Lima and to a lesser extent, to the west, within the Constitutional province of Callao, where the seaport and Jorge Chávez International Airport are located. Both provinces have had regional autonomy since 2002.
Discover the places you can visit and enjoy in Lima.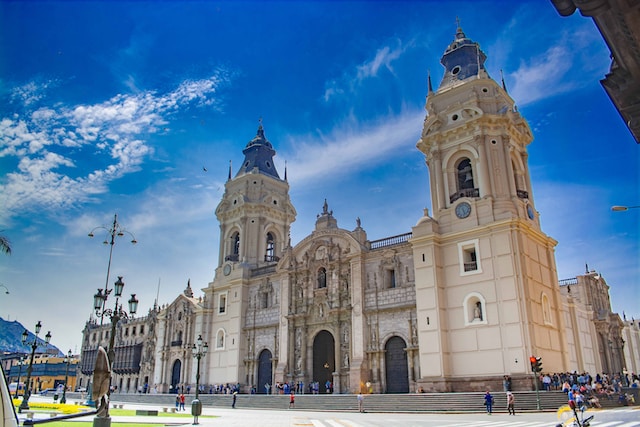 HISTORIC CENTRE OF LIMA
Lima respects its past and achieves the perfect harmony between tradition and contemporary architecture. Walking through its streets is to admire its churches, archaeological sites and mansions with balconies that coexist with modern buildings. In 1991, its historic centre was declared a World Heritage Site, and its artistic monuments are therefore protected. Lima is also the only South American capital with access to the sea. Its beaches are perfect for surfers; and on its boardwalks, the gentle breeze refreshes bike rides and walks. You can also paraglide over the Pacific Ocean. Moreover, it is recommended to visit: The Main Square of Lima, The Cathedral Basilica of Lima, The Government Palace, The Church and Convent of San Francisco, the Chinatown, and other cultural, historical and gastronomic attractions.
SAN ISIDRO
San Isidro has become an important tourist and business centre, with modern buildings, hotels, restaurants and business centres. It is characterised by its green areas and exclusive residential neighbourhoods where the traditional area of El Olivar stands out, so called because of the centenary olive trees in its parks.
Another attraction that is recommended to visit is the Huaca Huallamarca, a temple of pyramidal form that chronologically corresponds to the time of beginnings of the regional developments, emphasizing the presence of the Lima, Wari and Inca cultures. It houses a Museum of Site where pieces found in the excavations of the place are exhibited.